Roles:

UX, content design
My deliverables:

Customer journey maps, user flows, wireframes, screen flows, clickable prototypes, copy decks.
Timeframe:

8 months (Jul 2019–Feb 2020)
I joined the Spectrum activation project as the team's content designer, and then after almost a year, after the MVP designs had been delivered, I also took on a UX role. In this hybrid role, I worked on other activation use cases, such as equipment swaps and router activation, using the existing designs. 
When the My Spectrum mobile app team made in-app equipment activation a priority initiative, I supported that team as a subject-matter expert, and then eventually also took over UX design to support additional use cases beyond MVP.
Together with our team's researcher, I reached out to several contacts within the company to get data on the number of successful activations, most common service packages, methods of ordering, and why customers call support during an activation, among other data points. This data helped us switch the conversation with our business owners about which use cases ought to be prioritized and zero in on the primary cause of failed activations: customers struggling to connect their equipment.
Our team also had the opportunity to visit a call center that specifically supports activation. At the call center, we listened to customer calls, interviewed call center representatives and supervisors, and collaboratively created a journey map of the customer experience. 
Through this visit we learned that the majority of activation issues can be resolved over the phone, meaning that customers either just needed help connecting their equipment or there was an upstream issue on our end that had to be corrected. We also reviewed a couple of prototypes with these agents and got their feedback. While they're not the primary users, they quickly spotted some issues that we later validated in user testing.
​​​​​​​
Design for post-MVP focused on three projects: improving content to help customers connect their equipment, swapping an existing modem or TV receiver with a new one, and displaying routers in the activation interface. 
Limited by the one-page MVP concept, we decided to improve the prompts to connect equipment by creating and testing four variations of the content shown on an unactivated device card. I created wireframes, copy and clickable prototypes to test each of those variations.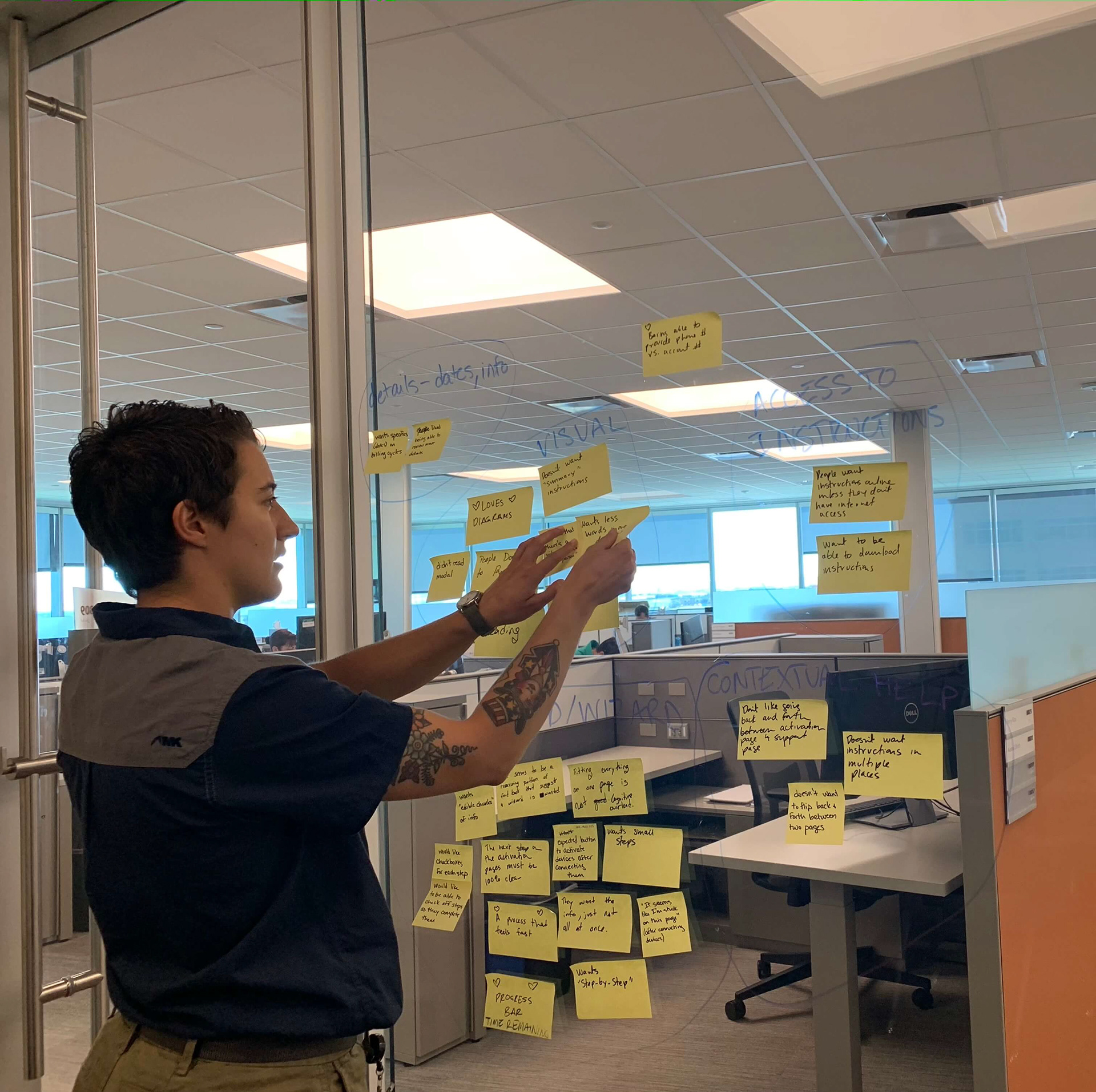 The results clearly showed that users preferred less copy, particularly because we linked out to a support article that has much more information.Testers also preferred following the video in the support article over reading through the detailed text instructions. 
Based on these results, I rewrote the equipment card content so it had only minimal copy (a directive subheading) and a link to an appropriate support article.
Swapping a modem or TV receiver
Customers occasionally need to replace a Spectrum-provided modem or TV receiver, and they'll have to activate the new equipment. With the one-page design, we were very reliant on copy within the device cards to prompt the customer on how to swap out an old device. Despite my best attempt at writing clear messages, testing showed that customers were unable to determine what they needed to do first and expected more of a step-by-step task flow. 
Testing swaps underscored a theme that we'd heard throughout our research and testing: customers prefer a step-by-step flow with specific and succinct instructions (and visuals) for each step. Our stakeholders ultimately decided to build and ship the pre-testing version, and we agreed to explore a step-by-step approach in the future.
While many customers don't know the difference between a modem and router, they do expect to see both pieces of equipment on screen if they received them in their equipment kit. The previous activation site didn't display routers on screen because they're technically not activated. All of our testers were unanimous in wanting to see all of their equipment on the activation site, however, so we continued iterating on designs to display routers and worked with engineering to find a backend solution to support those designs.
Our prototypes and testing results directly influenced the activation feature for the My Spectrum app, and most of our findings and recommendations were included in the MVP design for the app experience.
I also loved getting to meet some of the call center representatives and listen in our customer support calls. They have a tough job at times, but their professionalism and genuine desire to help customers and make thi

ngs better w

as inspiring and motivating.
Our main challenge was convincing stakeholders to reconsider their initial concept for the new site design based on what we were learning through testing. While some saw the value in iterating on designs before launching the product, this challenge was exacerbated by the fact that engineering had already started development before testing and final designs were complete, creating inertia and resistance to pivoting.​​​​​​​
Because this work contains proprietary info, you'll need a password to view it. 
​​​​​​​