Roles:
Research, UX, UI, content design, usability testing, prototyping
My deliverables:
Competitive research, user interviews, feature prioritization, user flows, wireframes, mockups, prototypes (paper and clickable)
Timeframe:
2.5 months (Feb–Apr 2019)
As an on- and off-climber for the past 10 years, I've noticed that finding (and keeping) a great climbing partner can be challenging. After talking with other climbers, I discovered that I was not alone—many climbers struggle with keeping a steady, like-minded climbing partner through the inevitable moves, schedule shifts, romantic developments and other life changes.
In this project, I wanted to learn how climbers are finding people to climb with, what problems exist around pairing up and how I might be able to help climbers have an easier time finding a great partner.
From talking to fellow climbers and reviewing online platforms like Meetup, Facebook Groups and Mountain Project, climbers currently don't have a good way to find climbing partners with similar abilities and availability. The general strategy on these platforms is to leave a public comment and hope someone responds, or attend climbing events or meetups hosted by the climbing groups.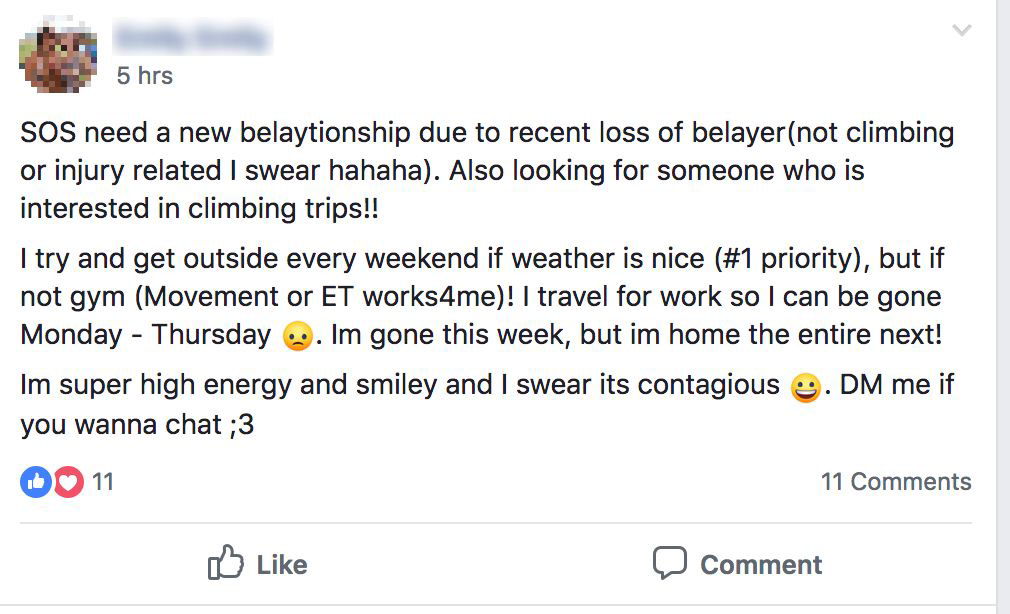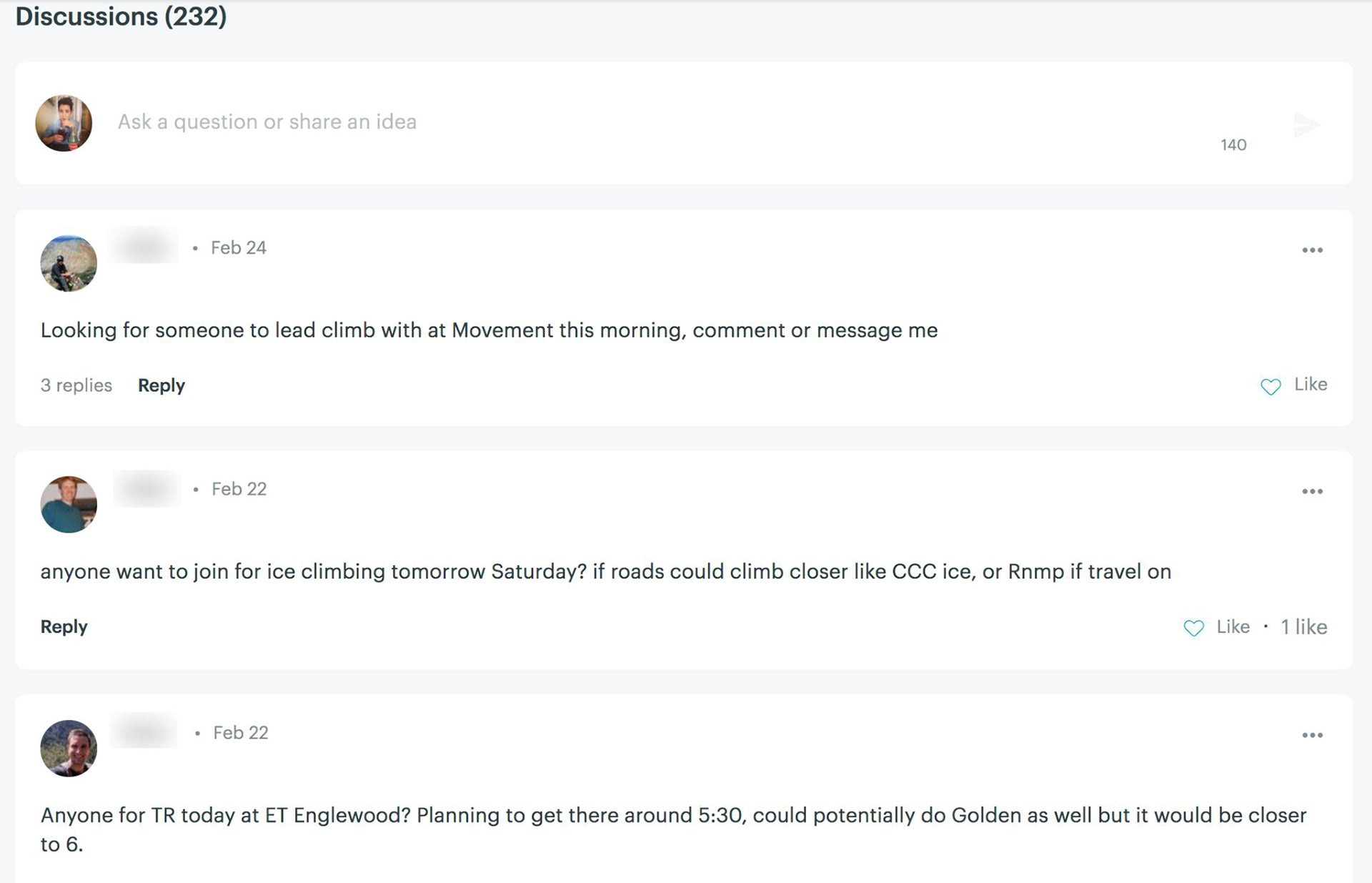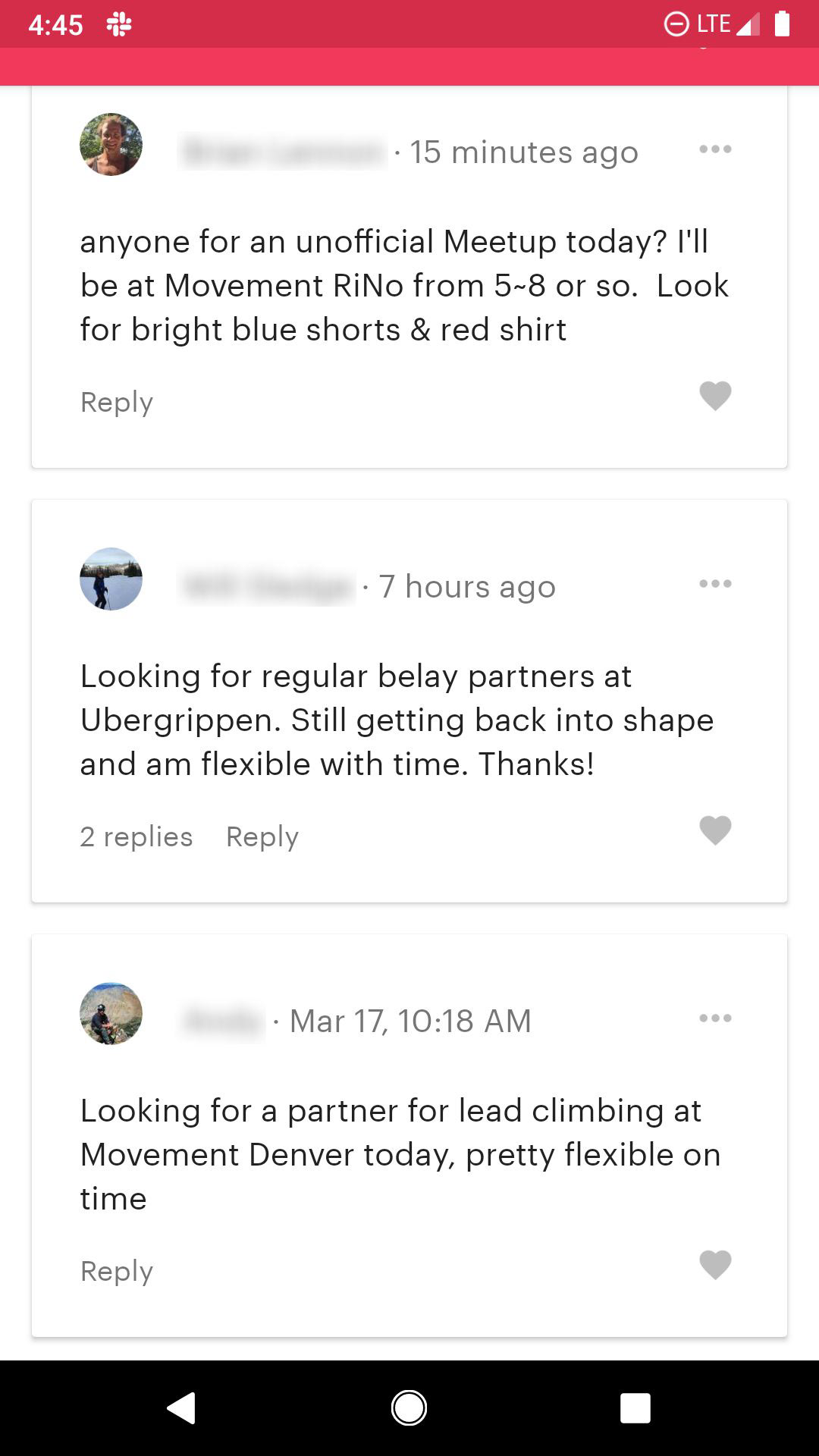 I wanted to understand how climbers are using the current online platforms to find climbing partners, so I reviewed direct competitors like Mountain Project, Meetup and Facebook Groups, and an indirect competitor—Bumble. Like dating or making friends, finding a great climbing partner often ends up being the result of a magical combination of factors and criteria, so dating apps could be a good adjacent area to analyze.
To uncover needs and problems climbers have around finding people to climb with, I interviewed eight climbers of different abilities for 30 to 60 minutes.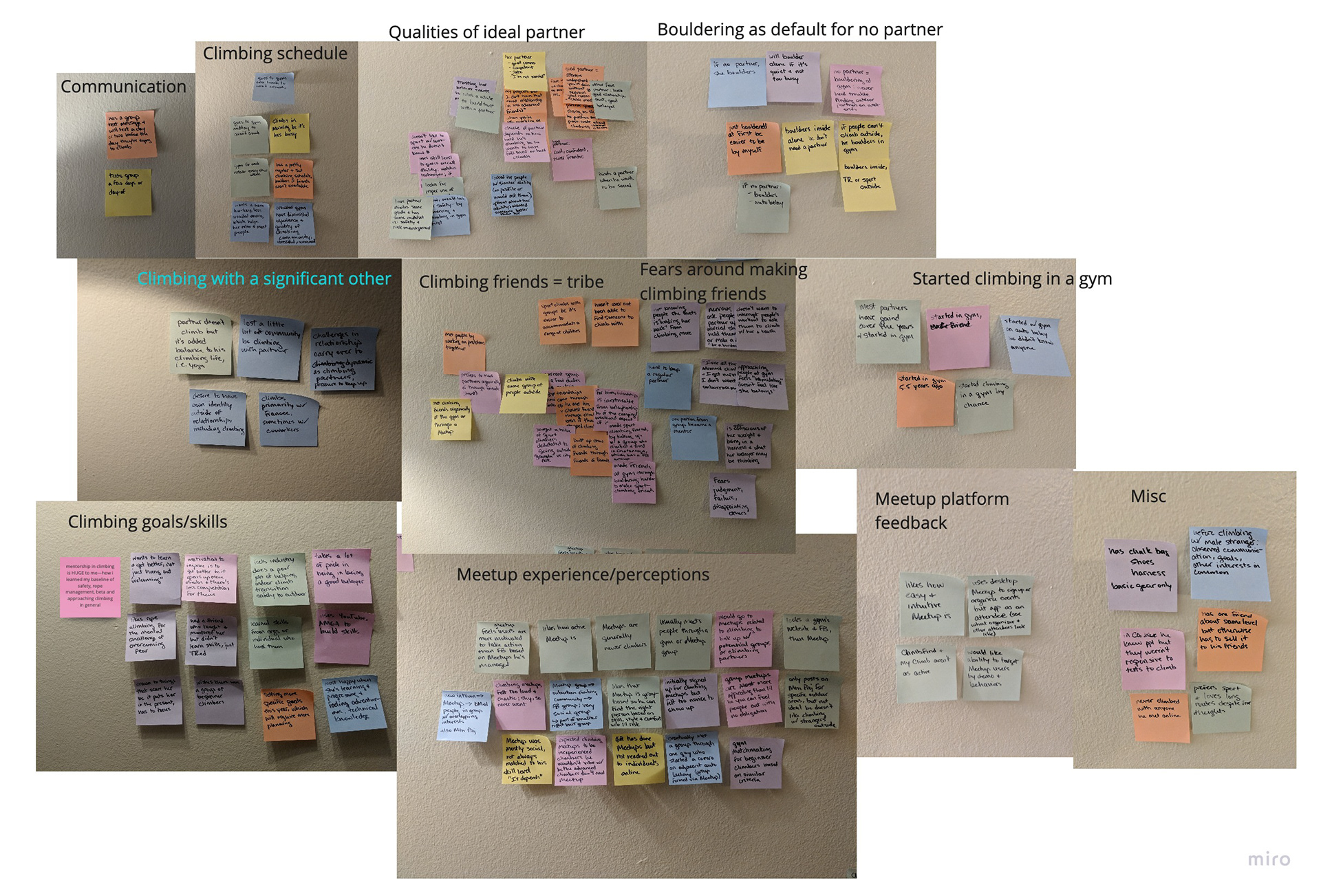 • All participants started climbing in a gym.
• When assessing a potential climbing partner, participants look for total number of years climbing as a general baseline of ability, as well as their attitude toward safety and belay skills.
• A partner's personality is perhaps more important than their skill level ("skill" as in how hard they climb). Most climbers said their favorite climbing partners were "encouraging," "patient," "fun" and/or "someone I have other things in common with." 
• That said, about half of participants preferred group events to one-on-one sessions with a stranger because groups let them easily switch partners and find someone they click with.
Problem definition and persona development
With more understanding of how people find their favorite partners and some of the concerns people have about climbing with someone they don't know, I further defined the problem I was trying to solve and proposed how to solve it. 
I also created primary and secondary personas based on goals, needs and pain points I heard in interviews.
Beginner and intermediate climbers need a low-pressure way to meet potential climbing buddies who have similar abilities, mindset, safety and availability.
A mobile app that matches climbers based on compatibility and other criteria will let climbers find potential partners and easily coordinate one-on-one or group sessions, wherever they are.
We'll know this to be true when we see:
• An increase in scheduled sessions. 
• An increase in recurring "public" sessions.
Based on my user interviews, it was clear that building a user profile based on climbing criteria like number of years climbing, gear they own, and skill level were essential criteria for evaluating a potential climbing partner. However, several interviewees also mentioned that supporting details like user-added photos and non-climbing interests helped them get a better sense of a person before they reached out. 
Unexpected features like user matching and group messaging would help the app stand out among its competitors and make the process of finding and connecting with fellow climbers more efficient and effective.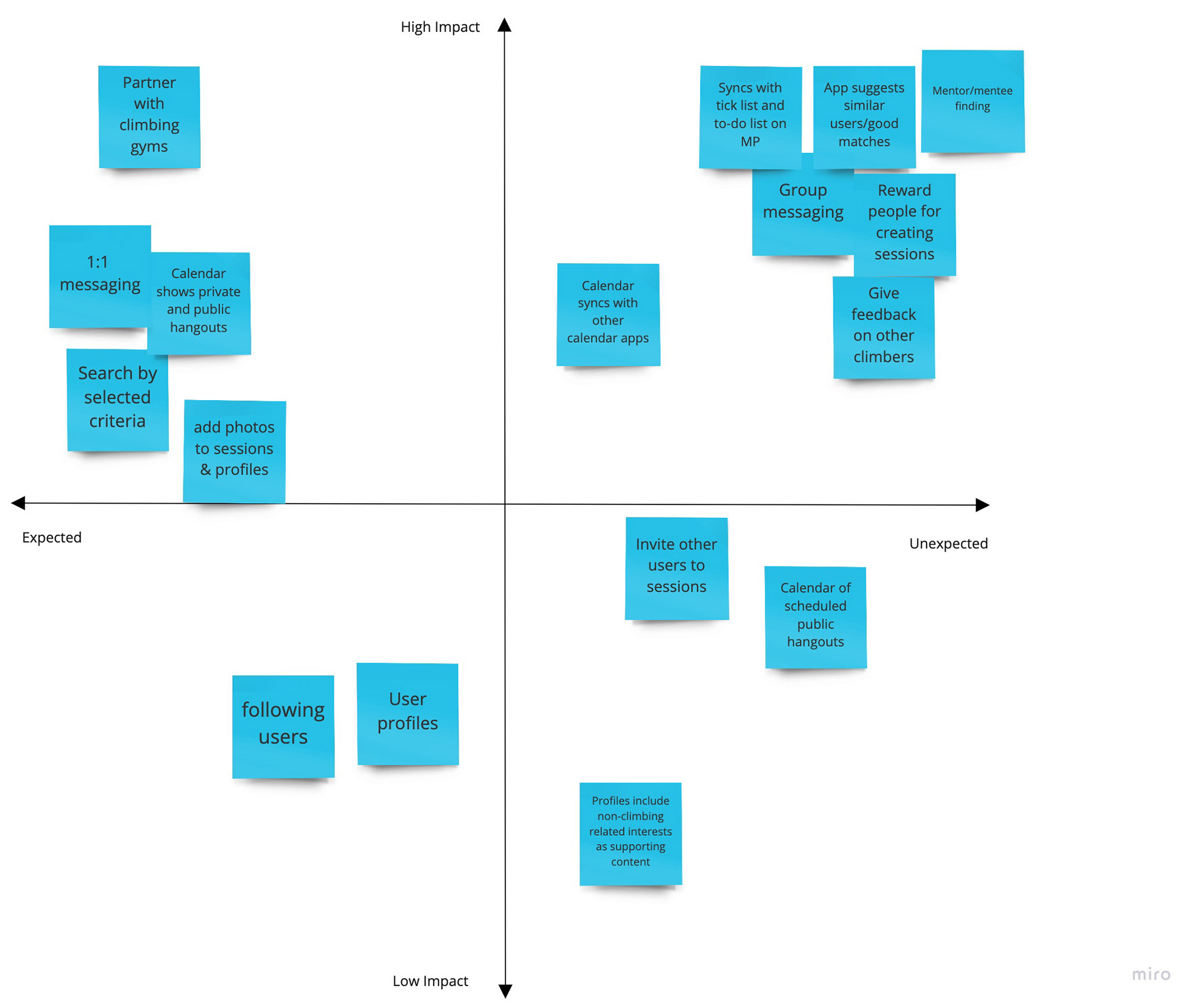 I drew the initial user flow of the app to accommodate people who like to browse partners and others who want to search by specific criteria. I based these two groups on the two general sentiments I heard in user interviews: some people are open to suggestions and have less stringent criteria, while others are more particular.
Sketching and paper prototyping
Through hallway testing, I vetted the flow for the core task of finding a person who's available to climb today and sending them a message. Where testers struggled was orienting themselves in the app and getting feedback on actions they took. 
Next, I transformed my sketches into wireframes. While the core task flow remained the same as the paper sketches, I applied what I'd learned through hallway testing.
Because the magic of Hangdog is recommending partners who are great matches, I prioritized helping users complete their profiles (including their partner criteria) for the onboarding flow. 
During onboarding, users would also be able to connect their Mountain Project account to the app, which would sync their ticks (routes they've completed) and to-dos (routes they want to climb) to their profile using Mountain Project's APIs. The app would then be able to use this data to match people who have the same ticks or to-dos.
After completing wireframes, I wrote a usability testing plan, completed two rounds of testing with two participants per round and then updated the wireframes after each round.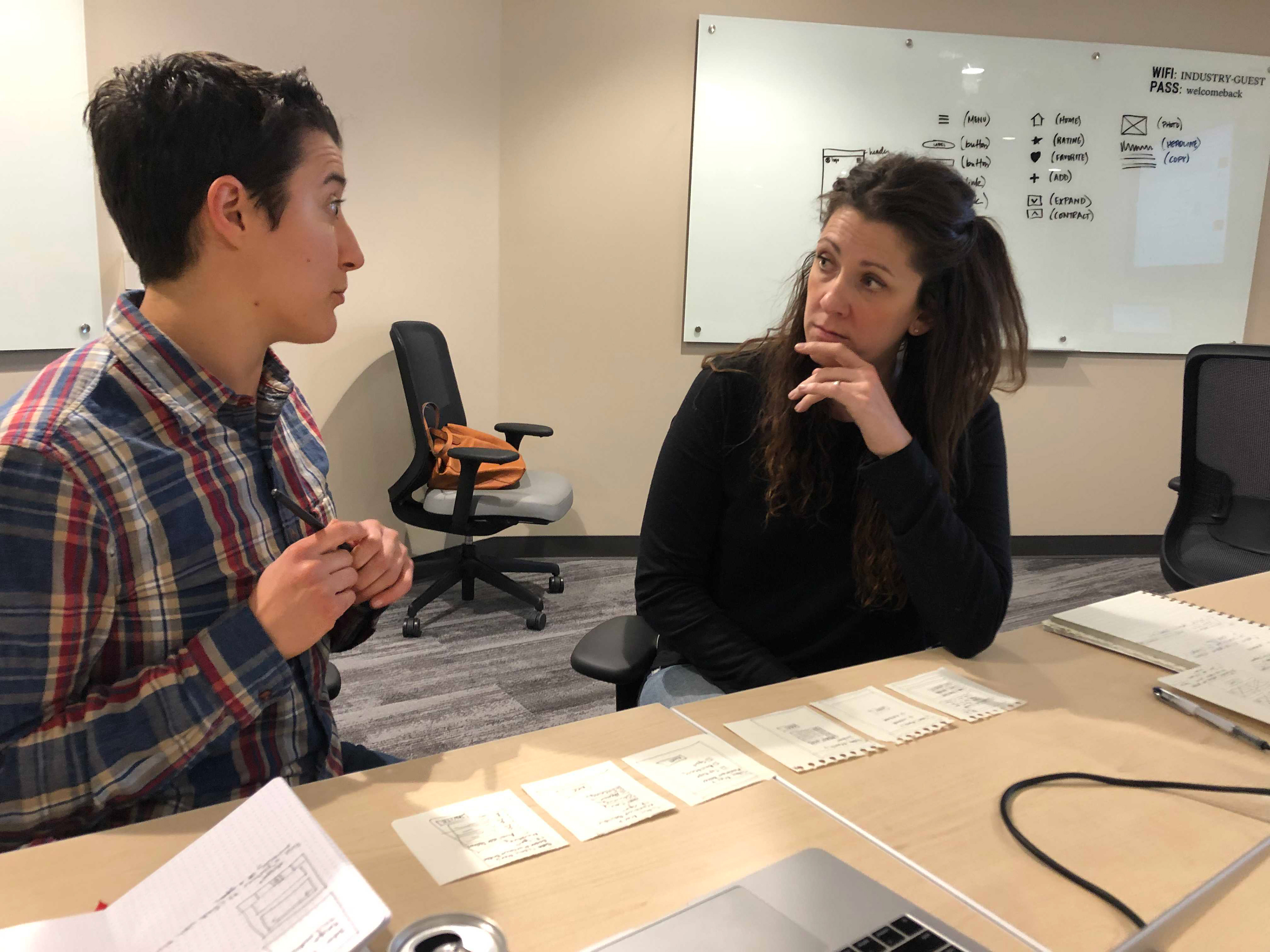 After some branding exercises and market research, I chose the name "Hangdog" for the app. I based the color scheme off of heritage outdoor brands, such as Patagonia, whose palettes sample '70s colors like indigo, rust orange and yellow. 
​​​​​​​
Mockups and MVP prototype
Using the Material design system, I mocked up screens for MVP and created a clickable prototype.
In these mockups, I tied Hangdog branding into the details, like using cra

g d

ogs as the user profile photos and representing the "save profile" feature with a paw print. 
While cute, peers recommended showing actual people instead of pets in the user profile photos to make the prototype feel as a realistic as possible. Later user testing also showed that people didn't understand what the paw print meant, which was a good lesson on not changing conventions for the sake of unique branding.
Putting together a conceptual MVP in only two and half months was definitely the highlight. I enjoyed being a part of every phase of the project, especially interviewing climbers. It was also exciting to learn new tools and techniques and immediately put them to use.
The short timeframe obviously posed challenges to how much time I could spend on each phase of the project, particularly in user testing. For example, I made some decisions in the UI phase that ended up testing poorly but did not have enough time to iterate and see if my changes tested better. 
As this project was mainly conceptual, I didn't consult with developers in the early stages; however, their feedback undoubtedly would have shaped the ultimate feature set for MVP, among other things.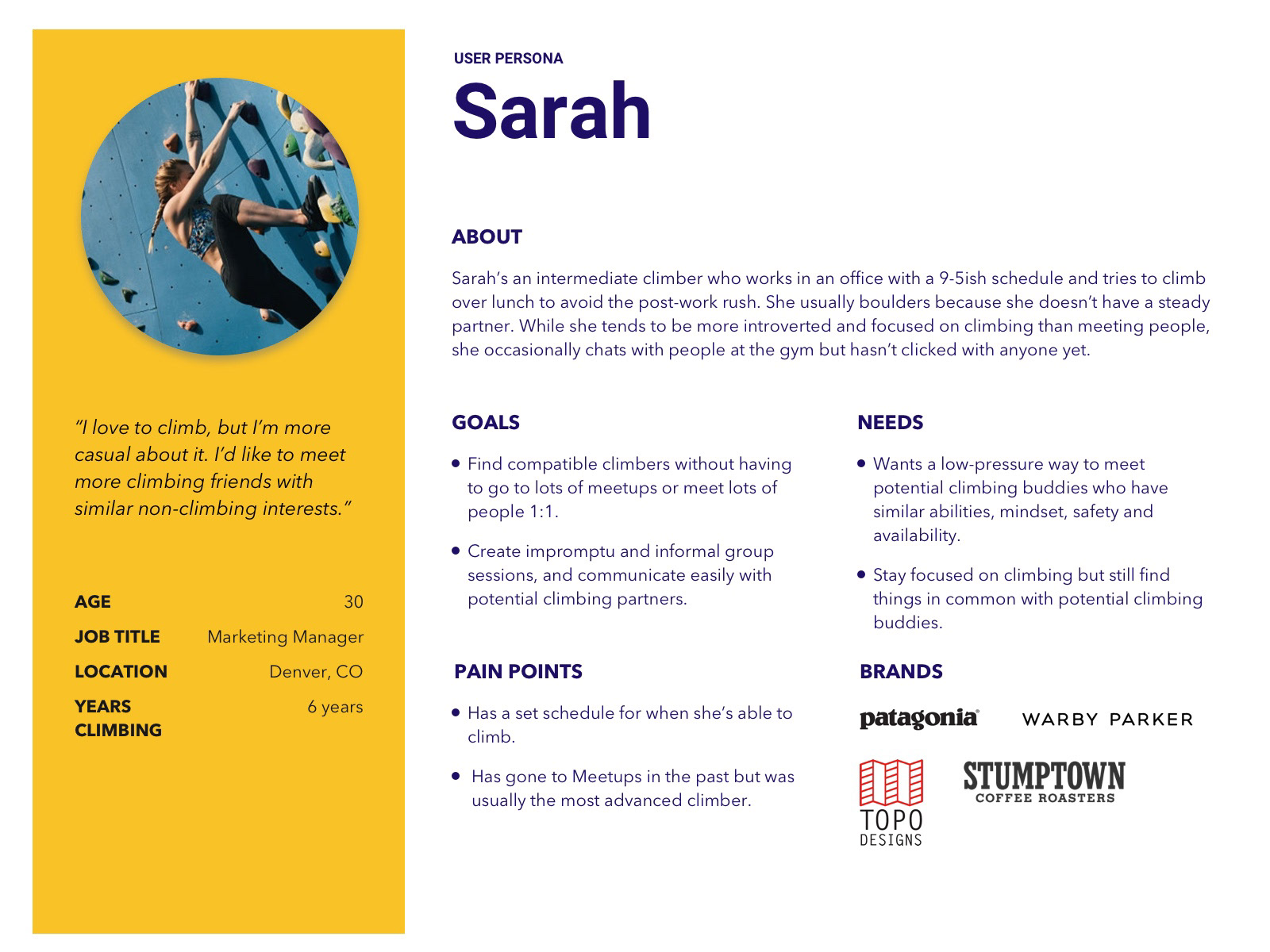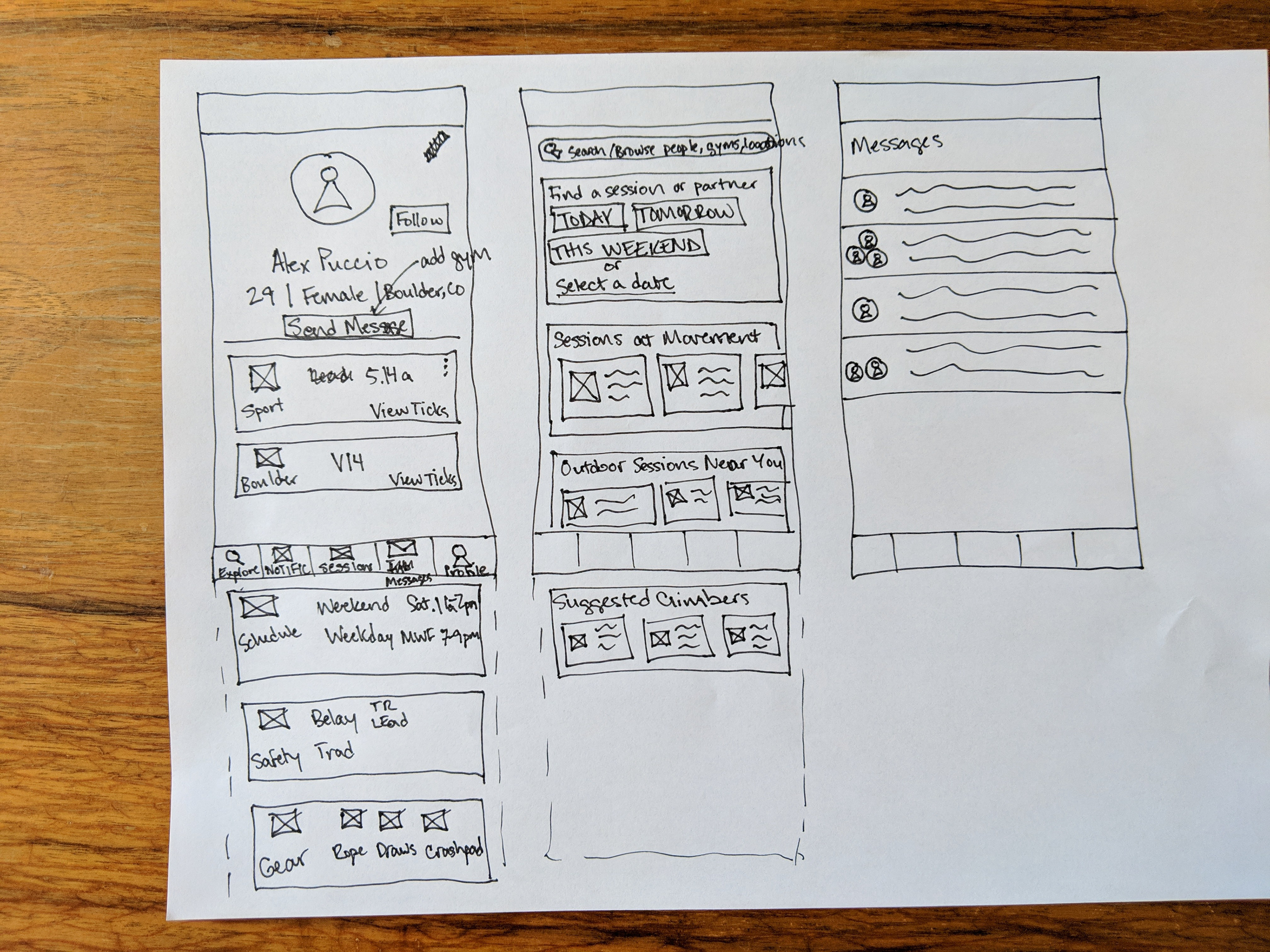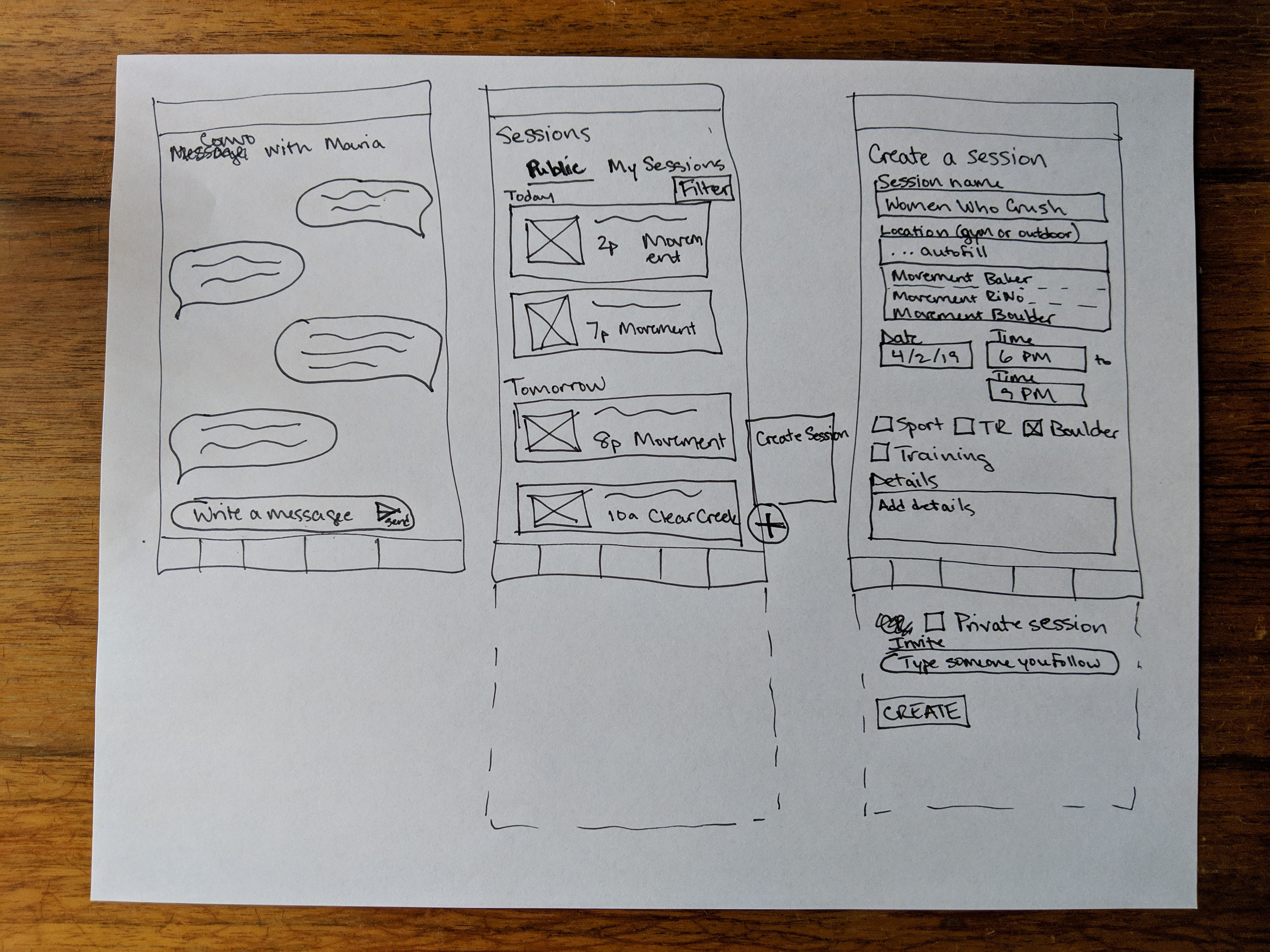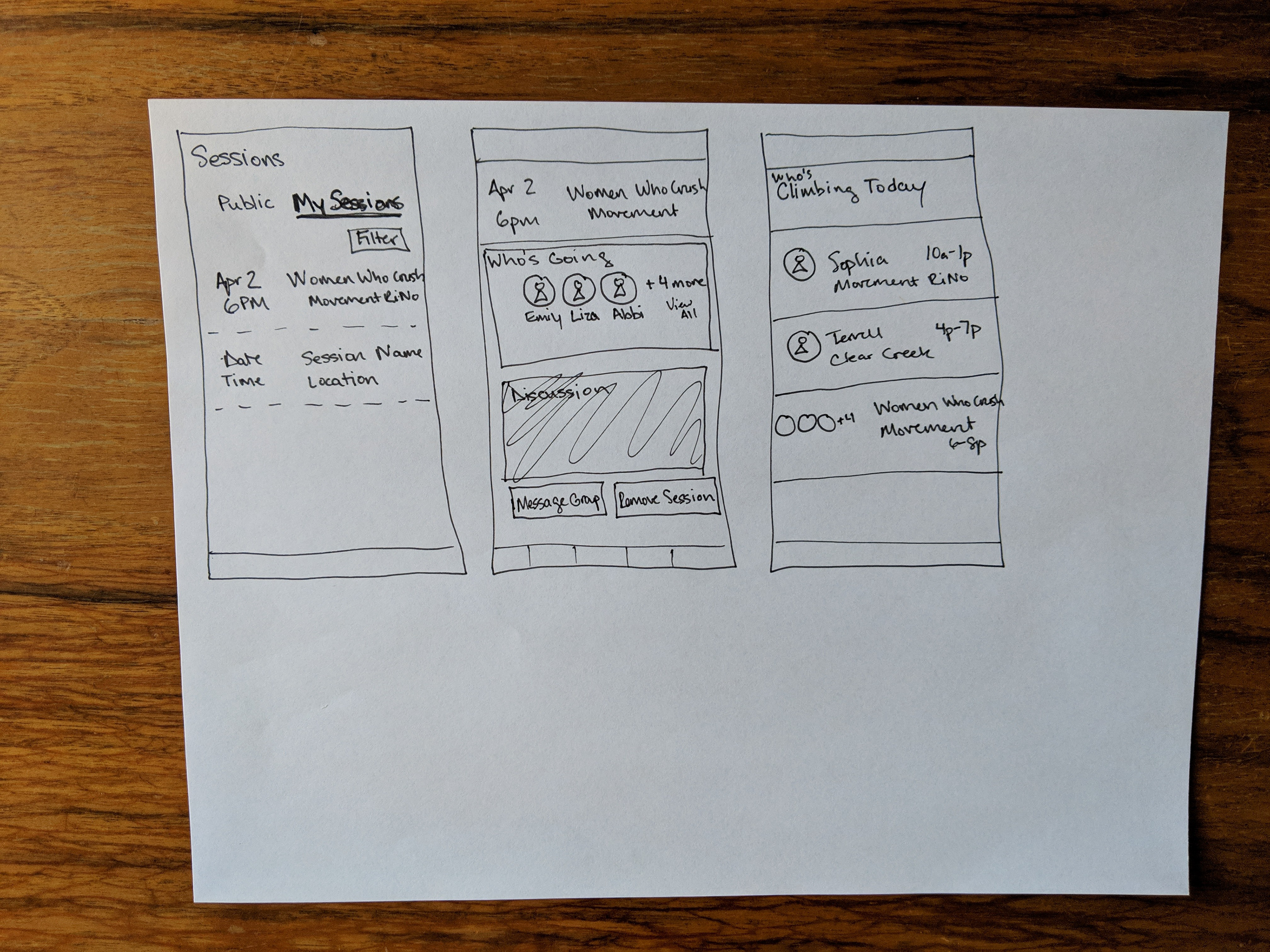 Before (left) and after (right) Round 1 of testing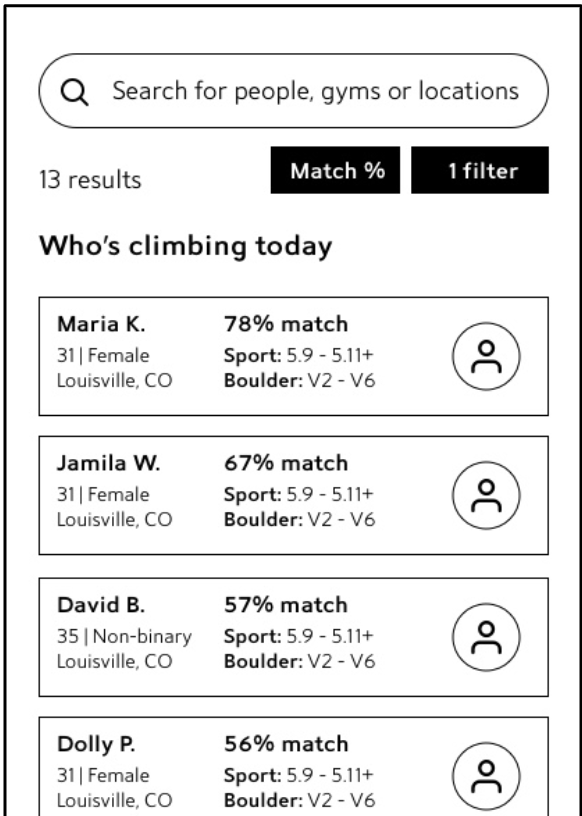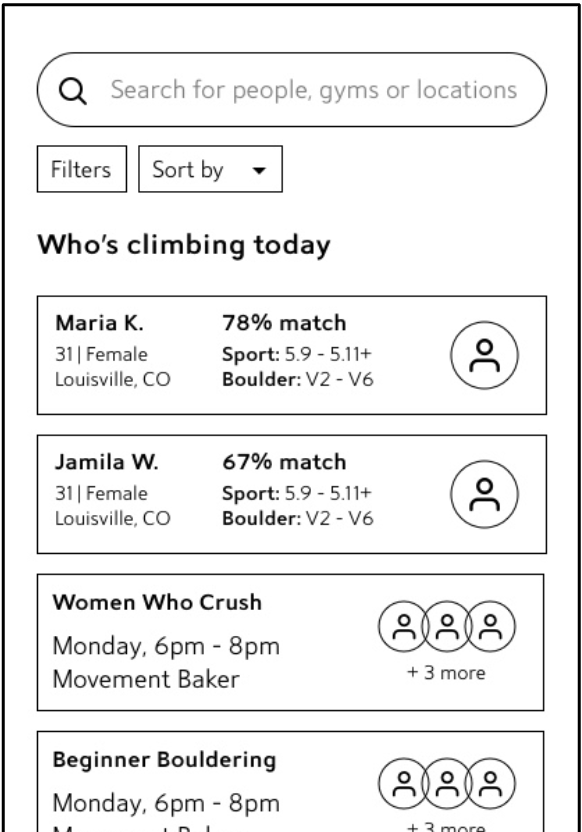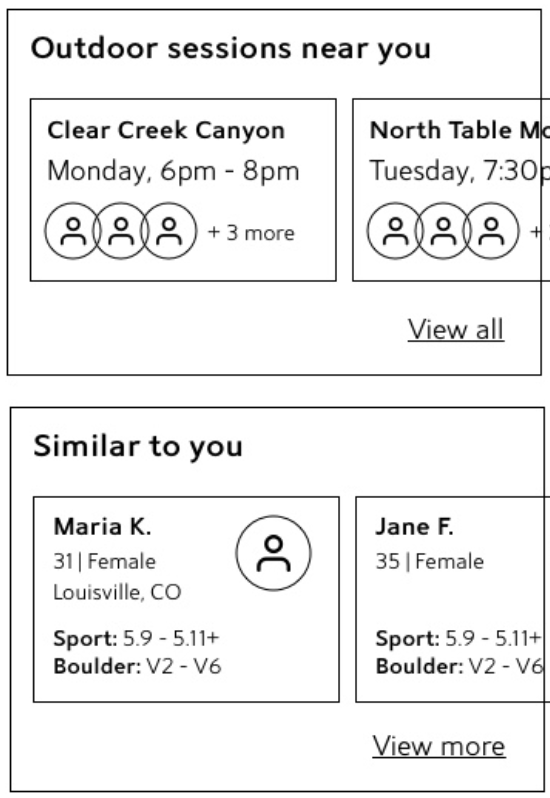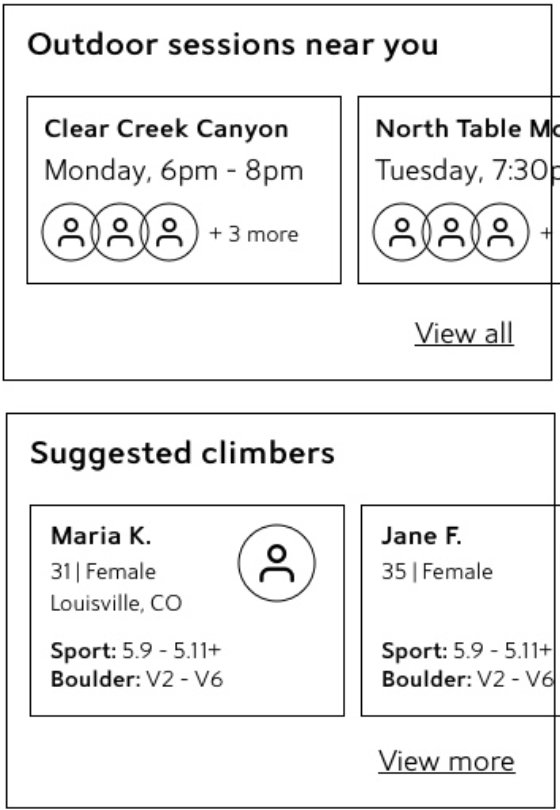 Before (left) and after (right) Round 2 of testing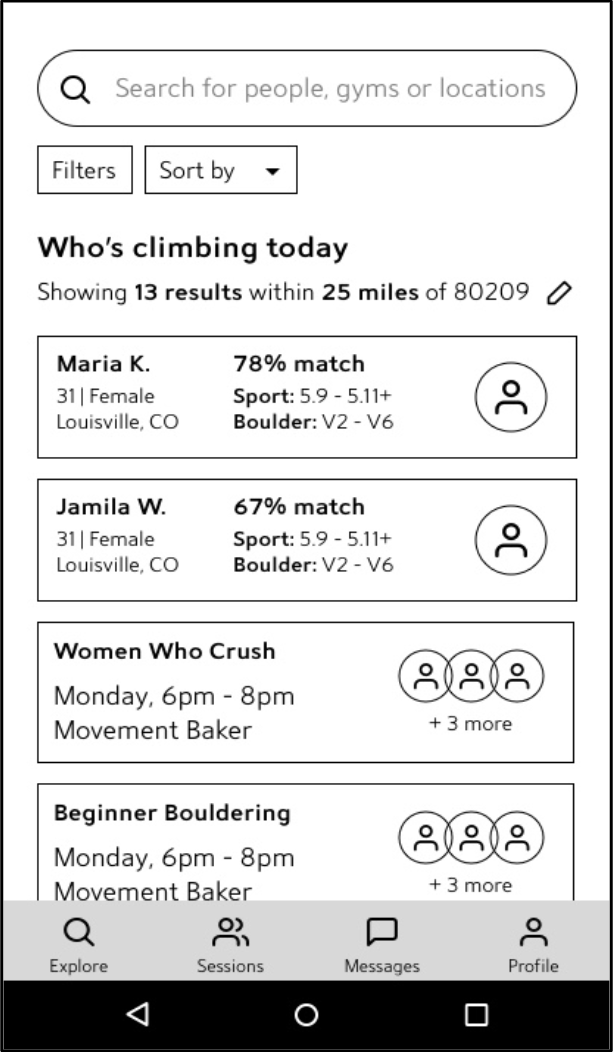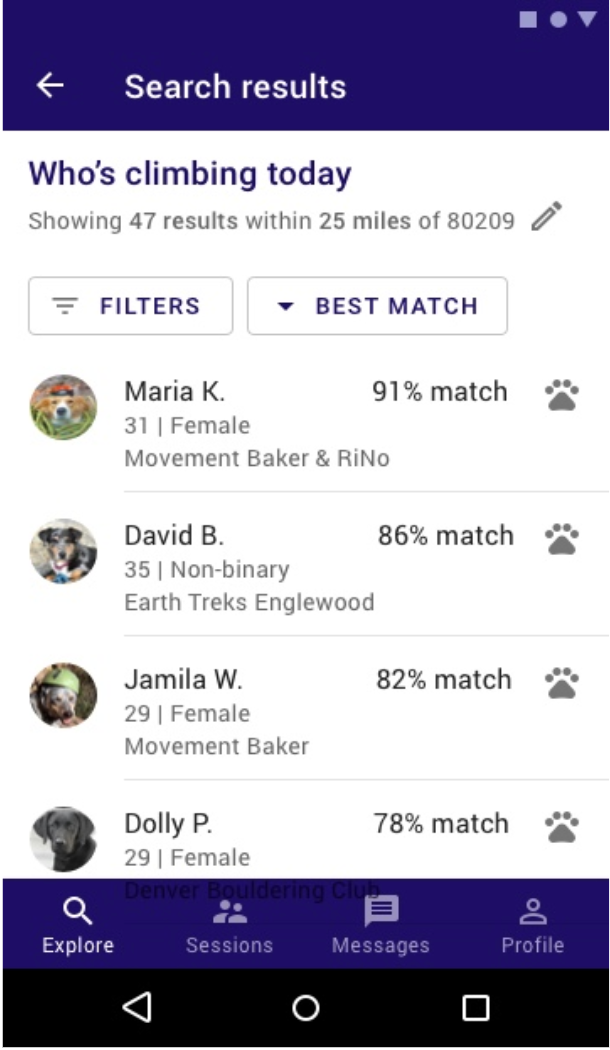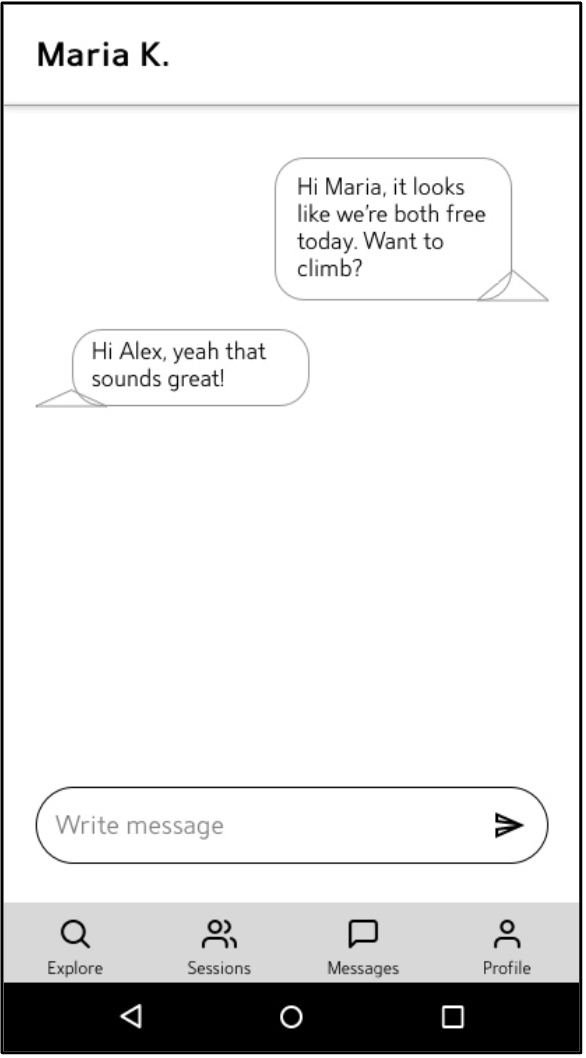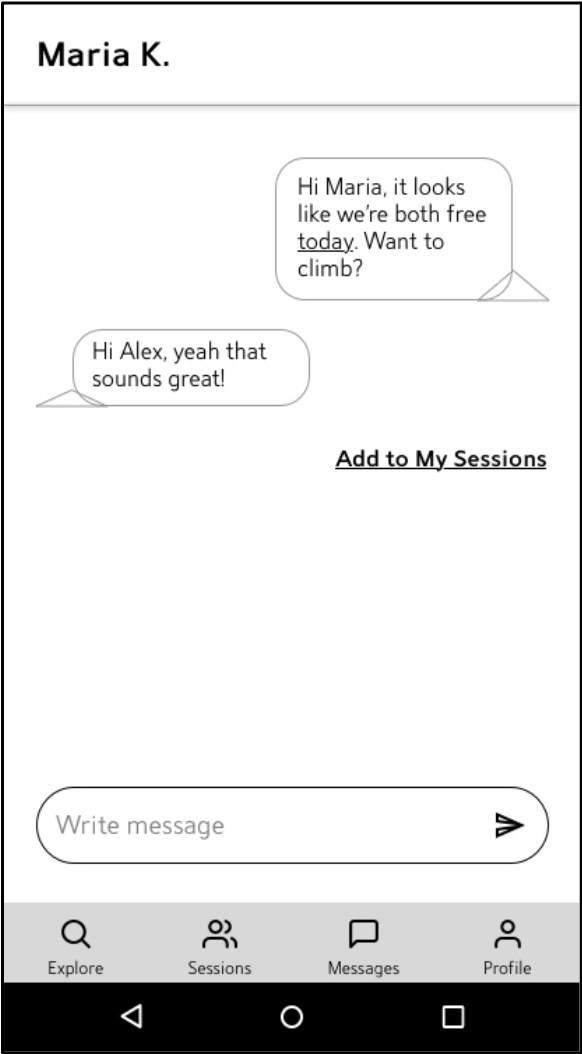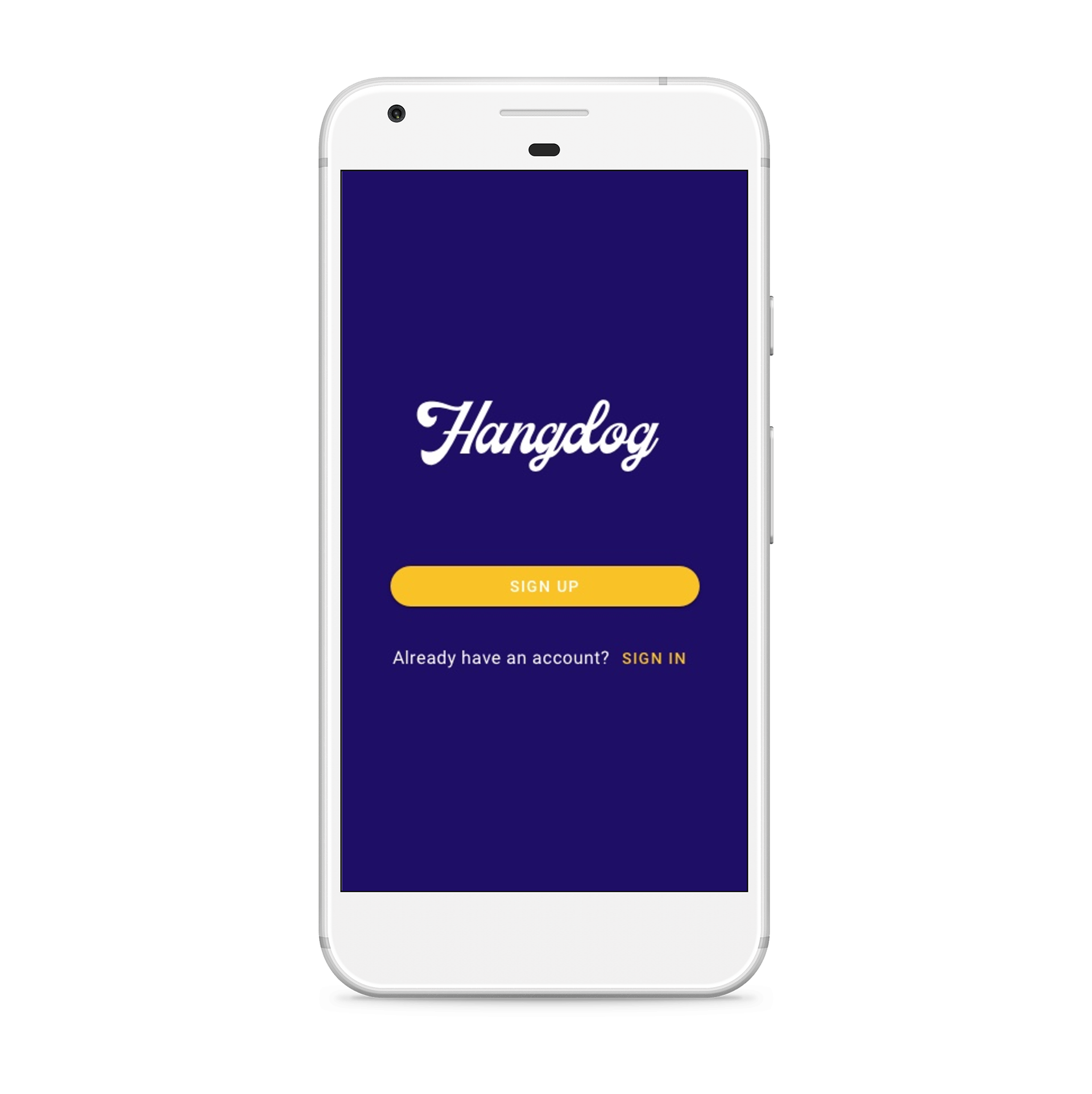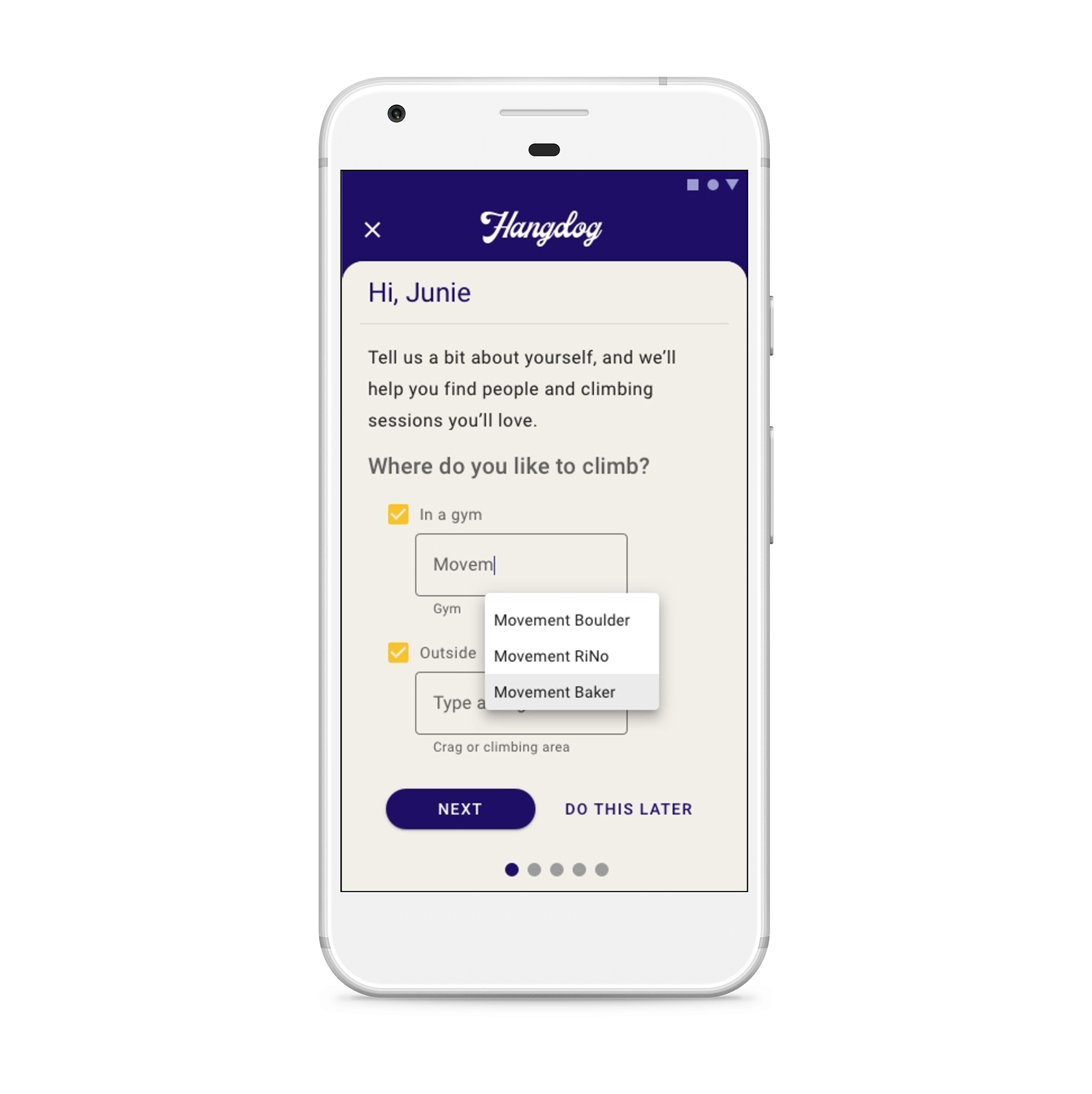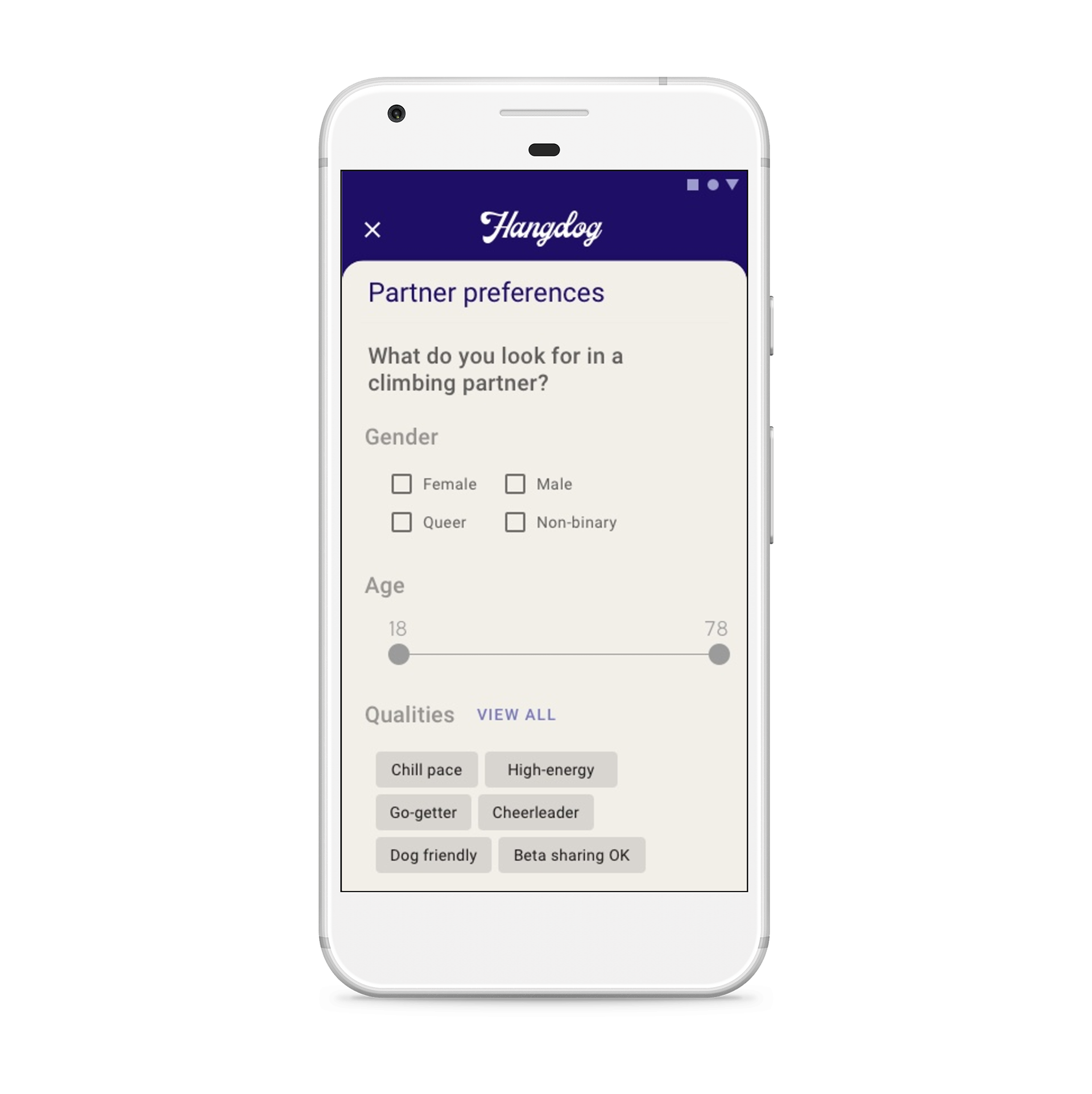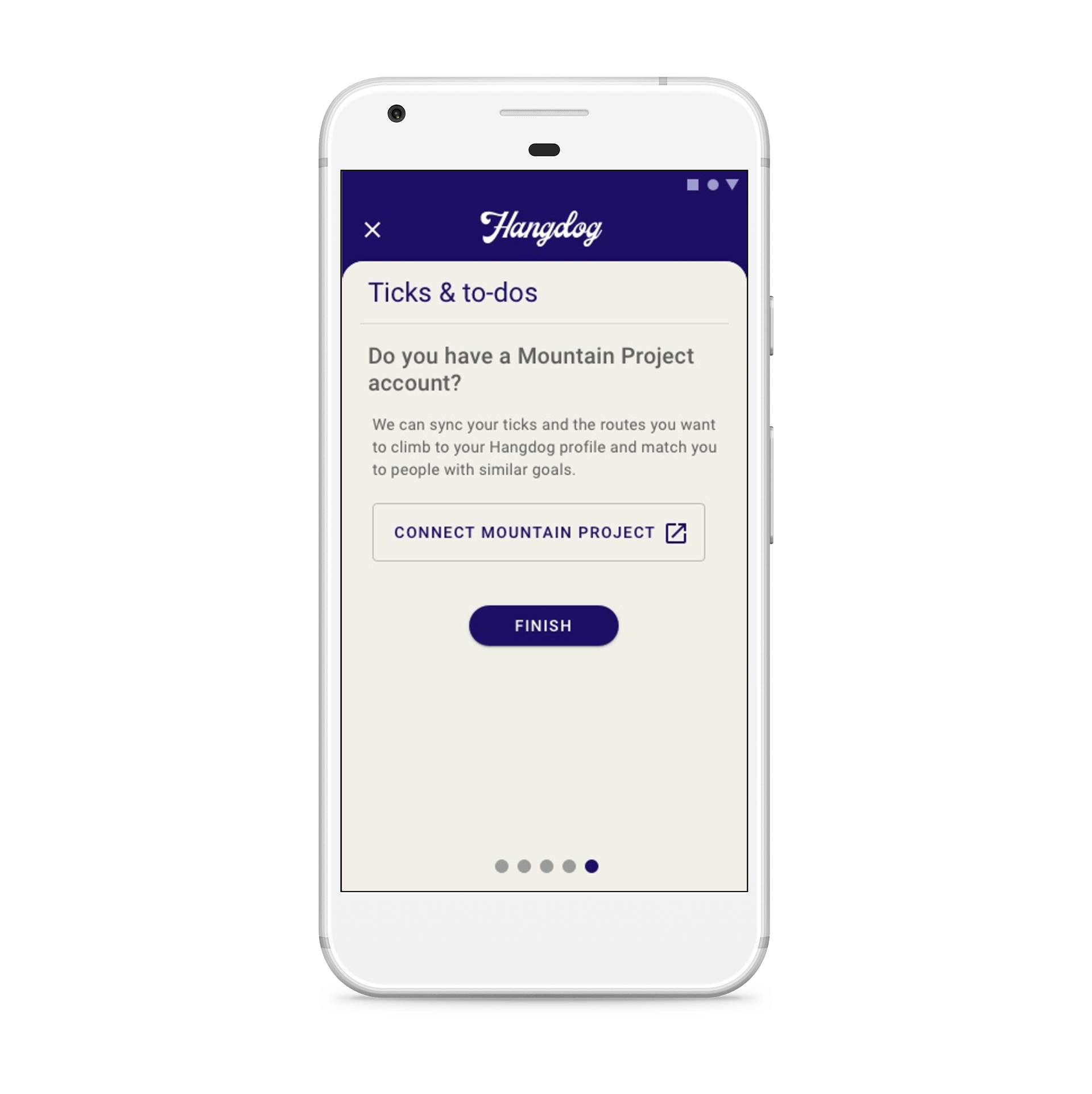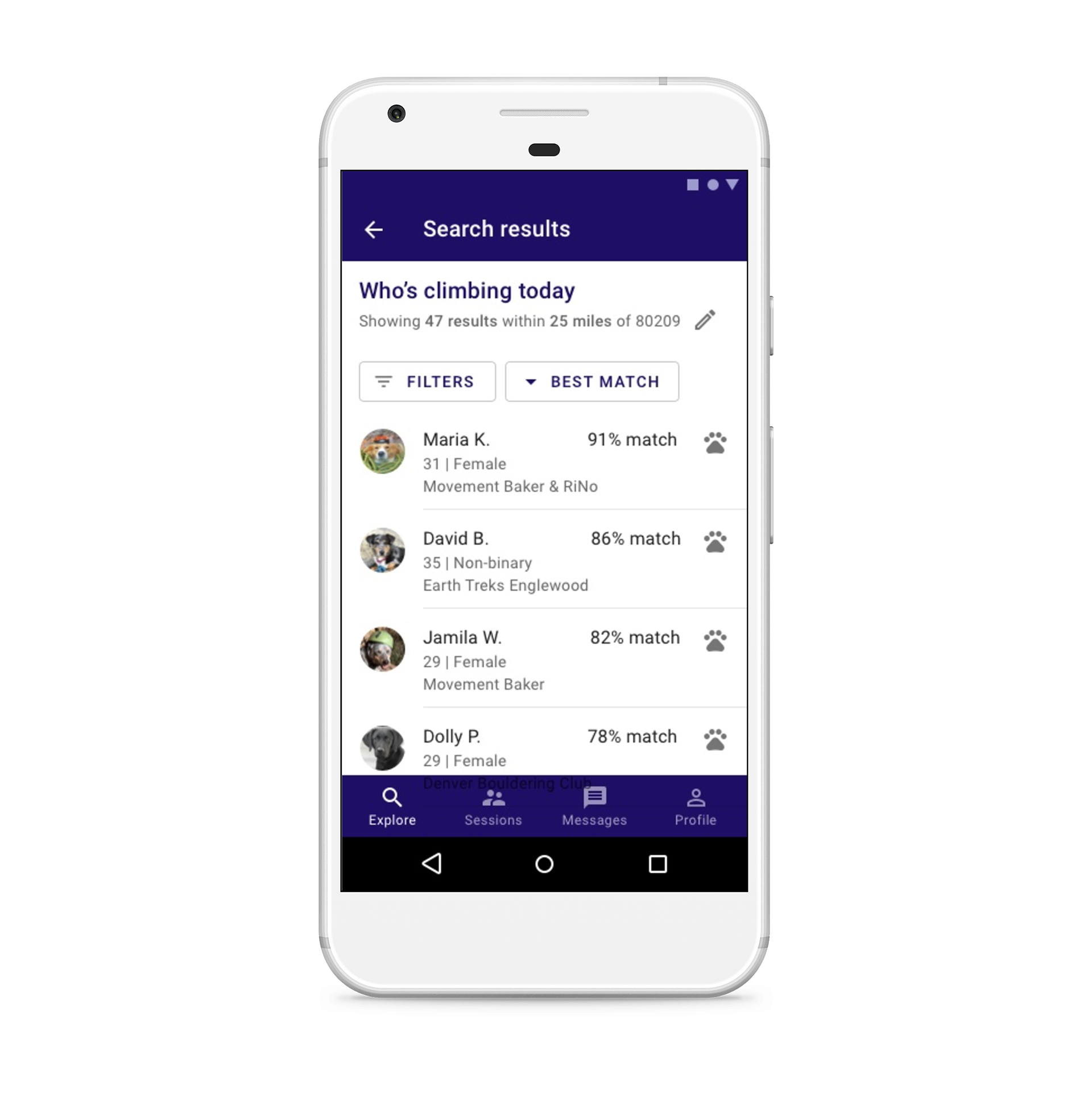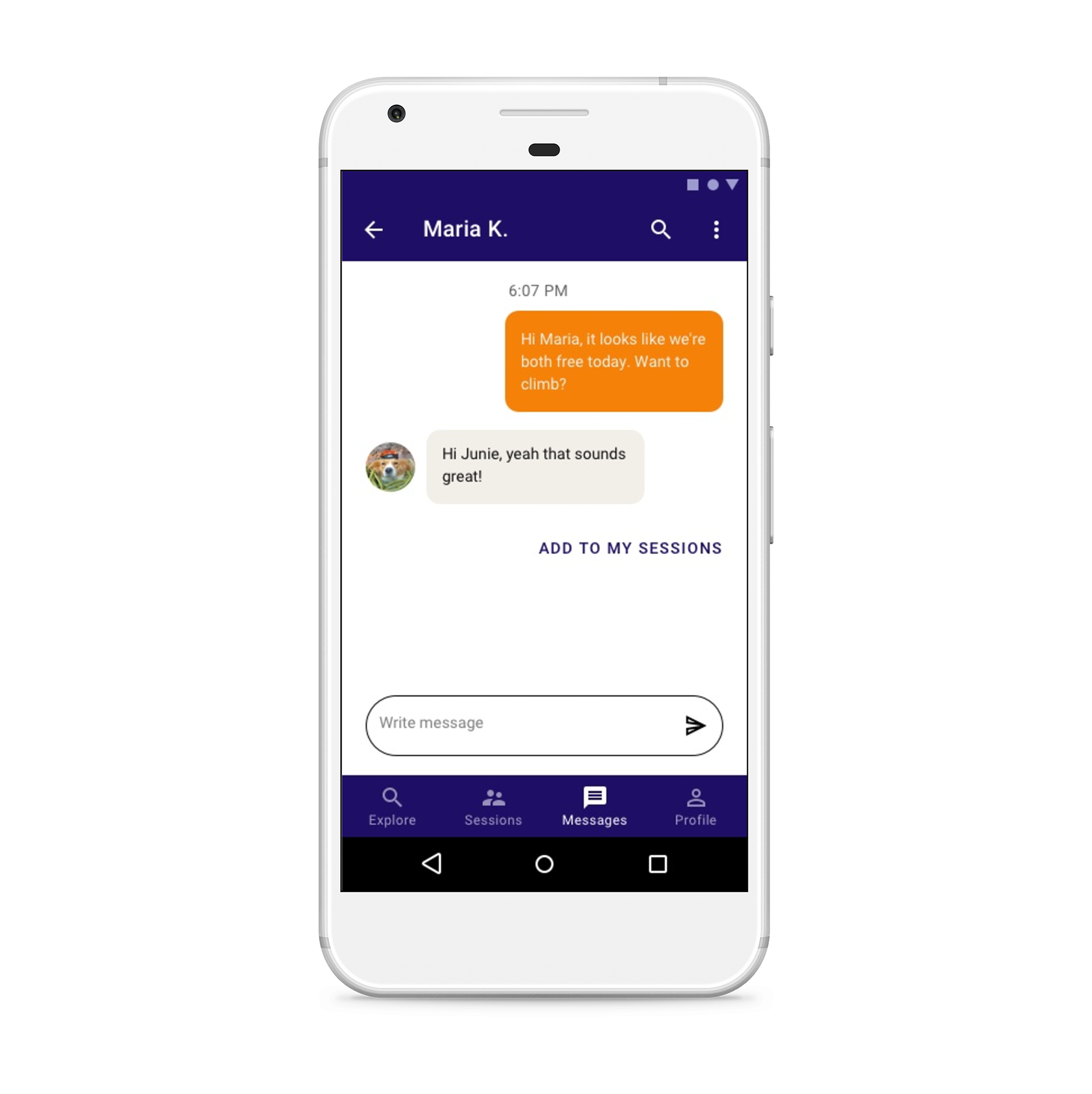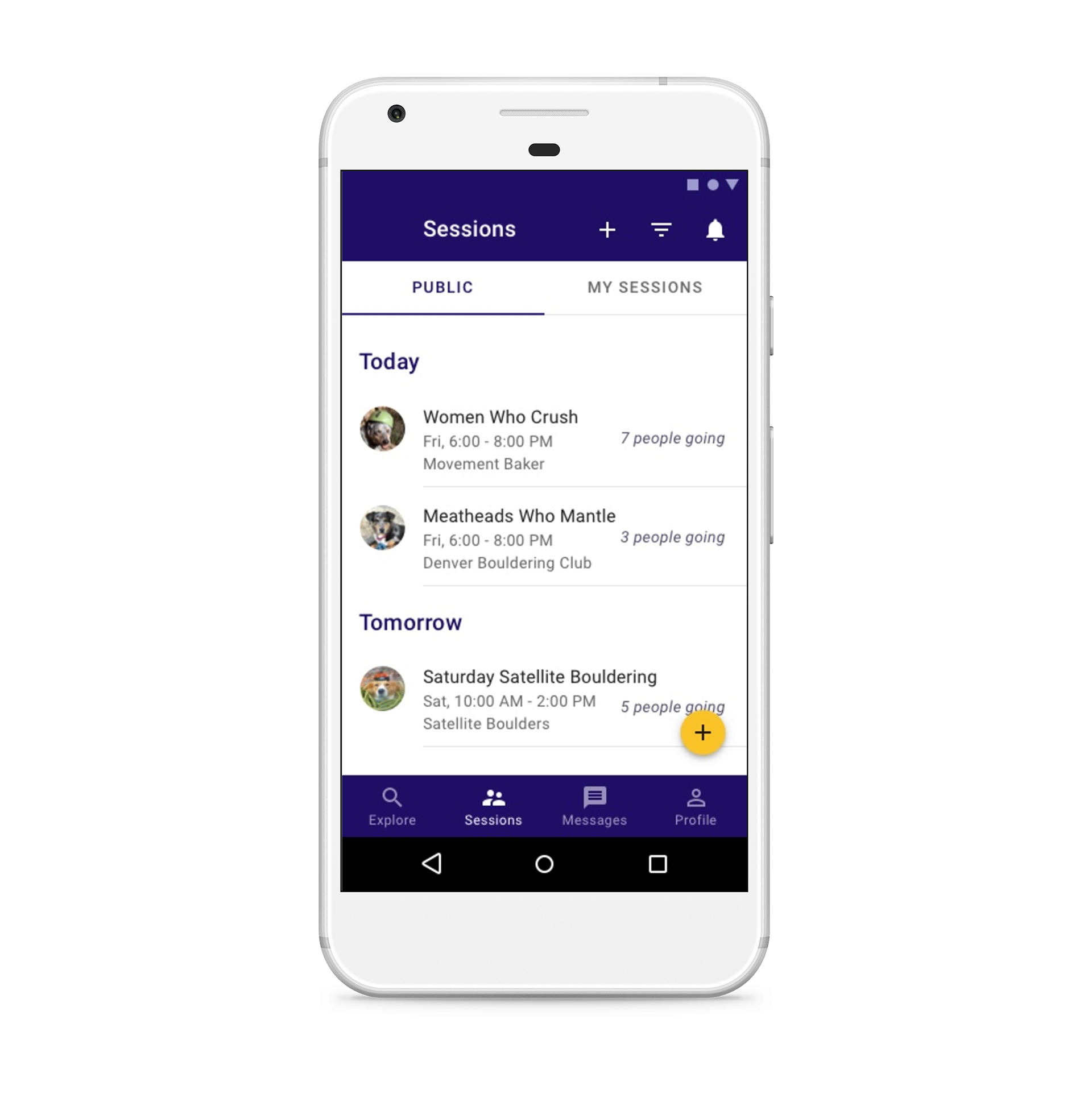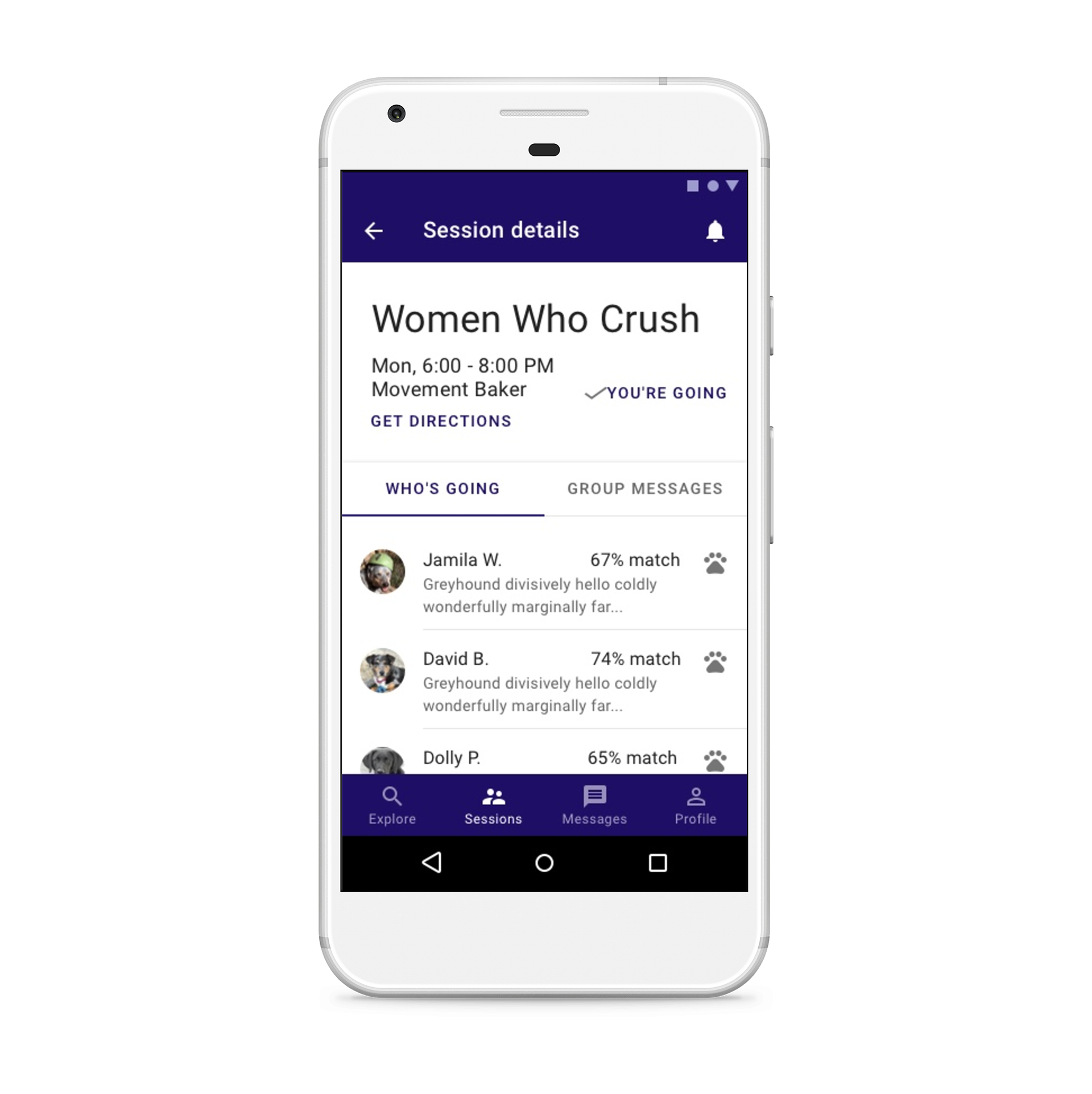 Check out the Hangdog app without leaving this case study.